THE ROLE OF INTEGRATED CADASTRE DATABASE IN DISASTER RISK MANAGEMENT
Abstract
Due to the complexity of the natural disaster in Indonesia, the effective disaster risk management should have
comprehensive information. Cadastre database using parcels as basic mapping units constitute the detailed information related
to elements at risk. It is not easy for the institutions in charge with those disaster risk management to access the detailed
information. The research is aimed at overcoming the above problems that is by designing the integrated cadastre database
scheme. The survey results are use to test the geo-database cadastre scheme. The evaluation is done by in depth interview to
the potential users. The result of evaluation showed that the cadastre database made is good enough to solve the above
mentioned problems.
Keywords: cadastre, design, geo-database, elements at risk, earthquake.
Downloads
Download data is not yet available.
References
Reference
ADPC. (2009). Elements at Risk Mapping,
Basemap and General Building Stock. 4th
Regional Training Course GIS for Disaster
Risk Management – Level II. Bangkok. Thailand:
Asian Disaster Preparedness Centre.
Brzev, S. (2007). Earthquake Resistant Confined
Mansory Construction. Kanpur, India: National
Information Center of Earthquake
Engineering (NICEE).
Budiarjo, A. (2006). Evacuation Shelter Building
Planning for Tsunami-prone Area. Enschede:
Msc Thesis. ITC, International Institute
for Geo-Information Science.
Direktorat Jenderal Pajak. (2002). KEPUTUSAN
DIREKTUR JENDERAL PAJAK. Jakarta.
DMC. (2006). Laporan Pendahuluan District Management
Consultant. Yogyakarta: District
Management Consultant.
FIG. (1996). The Bogor Declaration. Bogor: United
Nations Interregional Meeting of Experts
on the Cadastre.
Gulati, B. (2006). Earthquake Risk Assessment
of Buildings : Applicability of HAZUS in
Dehradun, India. Enschede: ITC.
Local Regulation of Bantul Regency No.6. (2010).
Peraturan Daerah Kabupaten Bantul No. 6
Tahun 2010 tentang Pembentukan Organisasi
Badan Penanggulangan Bencana Daerah
Kabupaen Bantul. Bantul: Local Government
of Bantul Regency.
Perpres No.10. (2006). Peraturan Presiden Republik
Indonesia Nomor 10 Tahun 2006 Tentang
Badan Pertanahan Nasional. Jakarta.
PMNA/KBPN No.3. (1997). Peraturan Menteri
Negara Agraria/Kepala Badan Pertanahan
Nasional Nomor 3 Tahun 1997 Tentang Ketentuan
Pelaksanaan Peraturan Pemerintah
Nomor 24 Tahun 1997 Tentang Pendaftaran
Tanah. Jakarta.
PP No.24. (1997). Peraturan Pemerintah No. 24
Tahun 1997 Tentang Pendaftaran Tanah.
Jakarta: Government Of Republic Indonesia.
Rekompak-JRF Off icial Site. (2010). Rekompak-
JRF. Retrieved September 10, 2010, from
http://www.rekompakjrf.org/index. php?
act=listkpqs&prop=34
Ruhkyat, M. (2008). Aspek Hukum Teknologi
Digital Dan Dokumentasi Pertanahan. Jakarta:
Data and Information Center of National
Land Agency of Republic Indonesia.
Siddiq, S. (2006). Bangunan Tahan Gempa Berbasis
Standard Nasional Indonesia . Vol 8:
18 p.
Thapaliya. (2006). Assessing Building Vulnerability
for earthquake using f ield survey and development
control data: A Case Study in Lalitpur
Sub Metropolitan City, Nepal. Enchede:
Urban Planning and Land Administration.
ITC.
UN-ISDR (2004). Living with Risk, United Nations
International Strategy for Disaster Risk
Reduction.
UNU-EHS. (2006). Components of Risk, A Comparative
Glossary. Bonn, Germany: UNUEHS
No2/2006.
Westen, C. V. (2009). Disaster Risk Management,
in Multi Hazard Risk Assessment (Guide
234 Bhumi No. 38 Tahun 12, Oktober 2013
Book). Enschede.
Wijanto, S. (2003). World Housing Encyclopedia
Report. Eartquake Engineering Research
Institute and International Association
Earthquake Engineering.
Zevenbergen. (2004). A Systems Approach to
Land Registration and Cadastre. Nordic
Journal of Surveying and Real Estate Research
, Vol.1.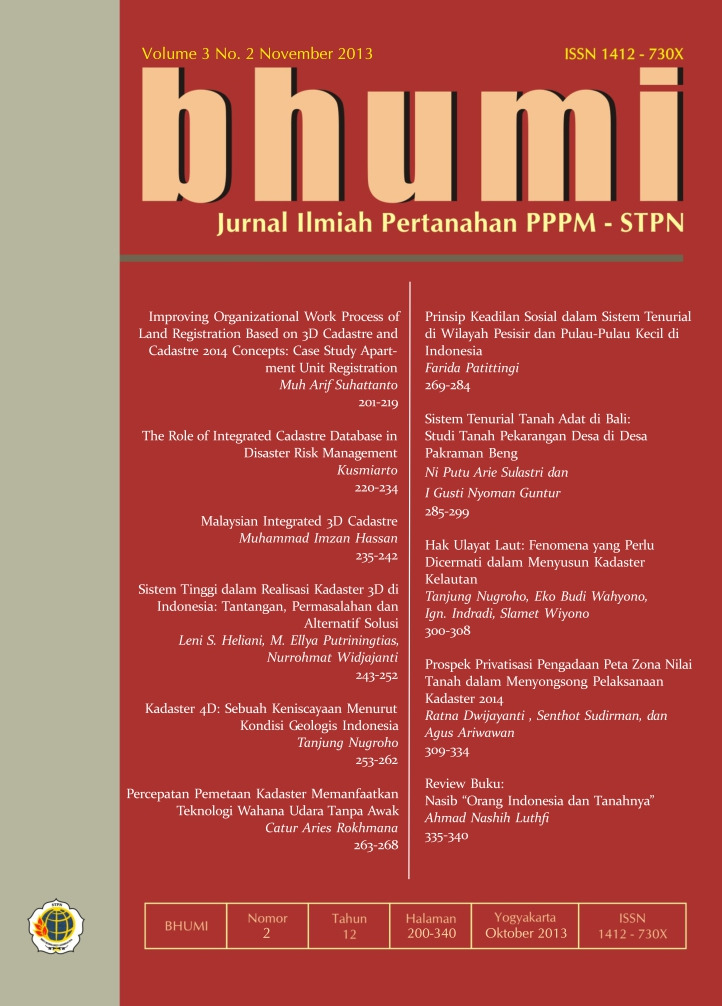 How to Cite
Kusmiarto, K. (2018). THE ROLE OF INTEGRATED CADASTRE DATABASE IN DISASTER RISK MANAGEMENT. BHUMI: Jurnal Agraria Dan Pertanahan, 1(38), 220–234. https://doi.org/10.31292/jb.v1i38.171