SISTEM TENURIAL TANAH ADAT DI BALI: STUDI TANAH PEKARANGAN DESA DI DESA PAKRAMAN BENG
Ni Putu Arie Sulastri

bpn ri

I G Nyoman Guntur

stpn
Abstract
Strictly speaking, the Basic Agrarian Law is not intended to wipe out someone's or legal body's rights but rather
to unify the National Land Law. As mentioned at Part II of the Basic Agrarian Law, the conversion had to be done to admit both
the western registered lands and those bearing the adat rights. One of the rights that can be converted into the right of
ownership is druwe desa land. Eventhough there has already been a rule on the above conversion, druwe desa at Pakraman Beng
Village have not been converted up to the present moment. The concept of Tri Hita Karana is one of the reasons why druwe desa
still exists.
Keywords: Village yard, druwe desa land, conversion stipulation.
Downloads
Download data is not yet available.
References
Daftar Pustaka
Dharmayuda, I Made Suasthawa, 1987, Status
dan Fungsi Tanah Adat Bali Setelah
Berlakunya UUPA, Denpasar: CV. Kayu Mas.
Harsono, Boedi, 2008, Hukum Agraria Indonesia,
Jakarta: Penerbit Djambatan.
____, 2008, Hukum Agraria Indonesia-Himpunan
Peraturan-Peraturan Hukum Tanah,
Jakarta: Penerbit Djambatan.
Mahendra, I Made Adhy, 2012, Pembagian Waris
Tanah Pekarangan di Kecamatan Tabanan,
Skripsi pada Jurusan Perpetaan STPN Yogyakarta:
tidak diterbitlan.
Sudharta, Cok Rai, 1993, Manusia Hindu, Denpasar:
Yayasan Dharma Naradha.
Supriadi, Hukum Agraria, Palu: Sinar Graf ika,
2006.
Surpha, I Wayan, 2002, Seputar Desa Pakraman
dan Adat Bali, Denpasar: Penerbit Pustaka
Bali Post.
Suwitra, I Made, 2005, "Tugas Prajuru Adat dalam
mengatur tanah adat khususnya tanah
telajakan dalam konsep menuju Bali yang
ajeg", Jurnal Kertha Wicaksana No.11, 152,
Denpasar: Fakultas Hukum Universitas
Warmadewa.
Wahid, Muchtar, 2008, Memaknai Kepastian
Hukum Hak Milik Atas Tanah, Jakarta: Republika.
Undang-undang Nomor 5 Tahun 1960 tentang
Peraturan Dasar Pokok-pokok Agraria.
Peraturan Pemerintah Nomor 38 Tahun 1963
tentang Penunjukan Badan-badan Hukum
yang Dapat Mempunyai Hak Milik Atas
Tanah.
Peraturan Pemerintah Nomor 24 Tahun 1997 tentang
Pendaftaran Tanah.
Peraturan Daerah Propinsi Bali nomor 3 Tahun
2001 tentang Desa Pakraman.
Sindhu, Ida Bagus, 2008, Apa Sih Ajeg Bali Itu?,
Tersedia : http://.blogspot.com/2008/11/apasih-
ajeg-bali-itu.htnl, 24 Juli 2013.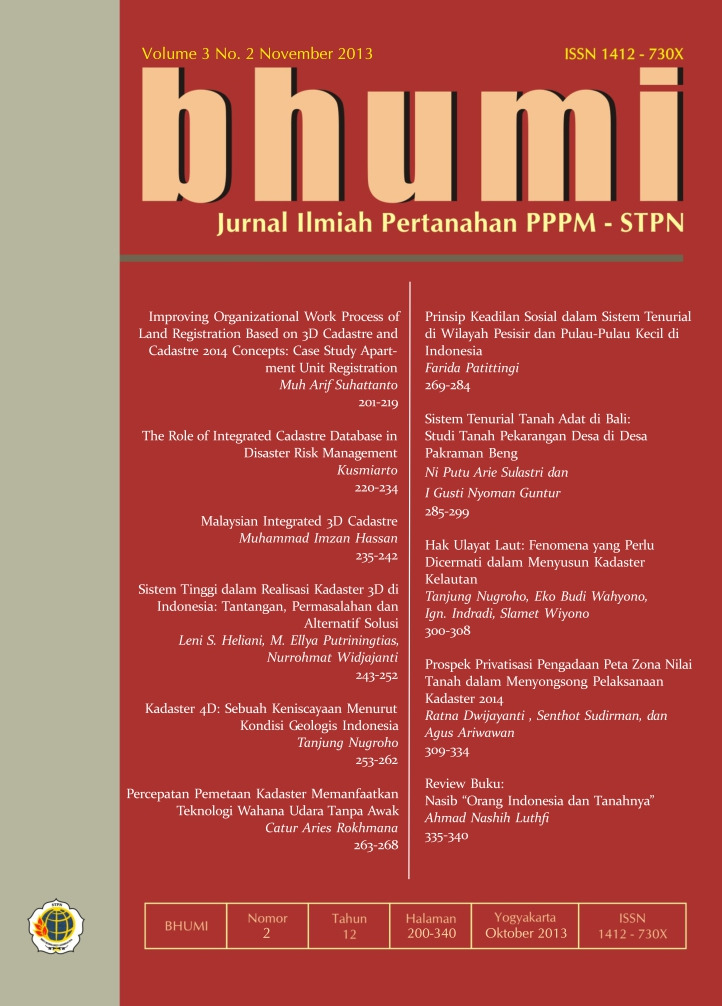 How to Cite
Sulastri, N. P. A., & Guntur, I. G. N. (2018). SISTEM TENURIAL TANAH ADAT DI BALI: STUDI TANAH PEKARANGAN DESA DI DESA PAKRAMAN BENG. BHUMI: Jurnal Agraria Dan Pertanahan, 1(38), 285–299. https://doi.org/10.31292/jb.v1i38.172