PRINSIP KEADILAN SOSIAL DALAM SISTEM TENURIAL DI WILAYAH PESISIR DAN PULAU-PULAU KECIL DI INDONESIA
Farida Patittingi

Guru Besar Hukum Agraria Fakultas Hukum Universitas Hasanuddin, Makassar
Keywords:
Masyarakat, investor, dan pemerintah
Abstract
Social justice as a principe of Pancasila should become a basis of political law on a regulating the national agrarian
resources, especially at coastal areas and small islands. This is to realize the welfare of all the Indonesian citizens. The
internalization principle of social justice in regulating land tenure tand ownership at the above mentioned places can show the
balannced and propotioronal distribution of land tenure and ownership for stakeholders; ivestors, society and the government.
Keywords: Citizen, investor, and goverment.
Downloads
Download data is not yet available.
References
Daftar Pustaka

Abrar Saleng. 2007. Kaidah Keseimbangan
Dalam Pengaturan Pengelolaan
Sumberdaya Alam. Pidato Penerimaan
Jabatan Guru Besar Tetap Dalam Bidang
Ilmu Hukum pada Fakultas Hukum Universitas
Hasanuddin. Makassar.
Boedi Harsono. 2005. Hukum Agraria Indonesia.
Sejarah Pembentukan Undang-Undang
Pokok Agraria, Isi dan Pelaksanaanya.
Penerbit Djambatan. Jakarta.
____. 2007. Hukum Agraria Indonesia. Himpunan
Peraturan-Peraturan Hukum Tanah.
Penerbit Djambatan. Jakarta.
Farida Patittingi. 2012. Dimensi Hukum Pulau-
Pulau Kecil di Indonesia. Studi atas Penguasaan
dan Pemilikan Tanah. Penerbit Rangkang
Education. Yogyakarta.
Imam Soetiknjo. 1994. Politik Agraria Nasional.
Penerbit Gadjah Mada University Press.
Yogyakarta.
John Rowls. 2006. A Theori of Justice. Teori Keadilan.
Penerbit Pustaka Pelajar. Yogyakarta.
Joyo Winoto. 2007. "Reforma Agraria dan Keadilan
Sosial". Orasi Ilmiah Kepala Badan
Pertanahan Nasional. Bogor.
Maria S.W. Sumardjono. 1995. "Akses Tanah
untuk Rakyat". dalam SKH Kompas, 25 September.
Jakarta.
Muhammad Bakri. 2007. Hak Menguasai Tanah
oleh Negara (Paradigma Baru untuk Reformasi
Agraria). Penerbit Citra Media.
Yogyakarta.
284 Bhumi No. 38 Tahun 12, Oktober 2013
Rokhmin Dahuri, et.al., 2001. Pengelolaan
Sumberdaya Wilayah Pesisir dan Lautan
secara Terpadu. Penerbit Pradnya Paramita.
Jakarta.
Roscoe Pound. 1972. An Introduction to the Philosophy
of Law. Yale University Press.
Sudirman Saad. 2003. Politik Hukum Perikanan
Indonesia. Penerbit Lembaga Sentra Pemberdayaan
Masyarakat. Cetakan Pertama.
Jakarta.
Sudjito. 2012. Hukum Dalam Pelangi Kehidupan.
Penerbit Gadjah Mada University Press.
Yogyakarta.
W. Friedman. 1971. The State and The Rule of
Law in A Mixed Economy. Steven and Sons.
London.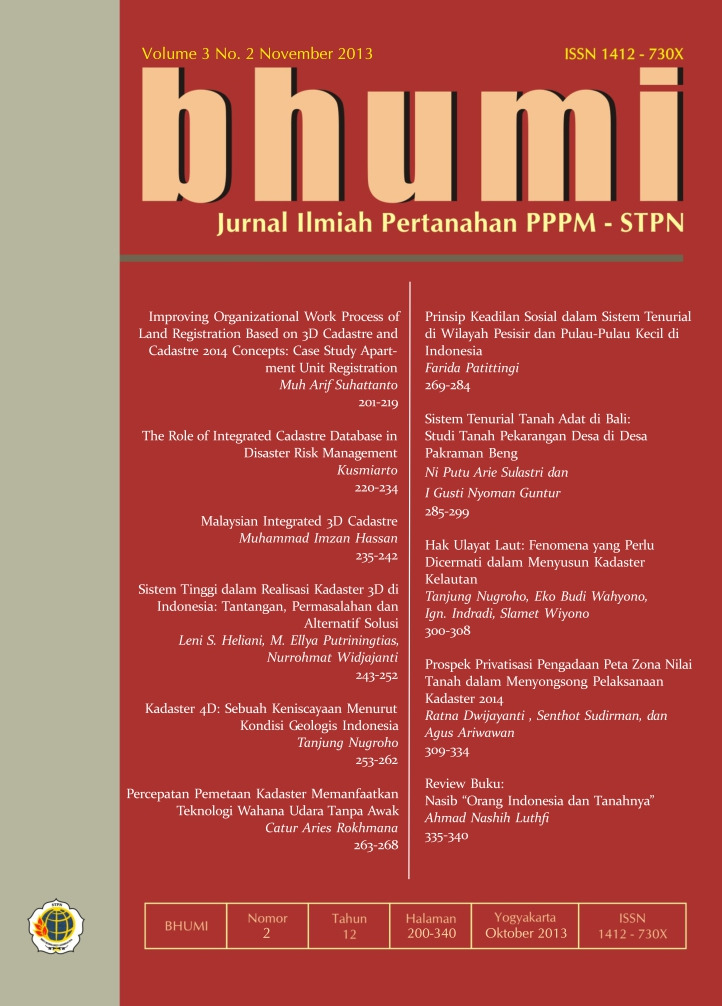 How to Cite
Patittingi, F. (2018). PRINSIP KEADILAN SOSIAL DALAM SISTEM TENURIAL DI WILAYAH PESISIR DAN PULAU-PULAU KECIL DI INDONESIA. BHUMI: Jurnal Agraria Dan Pertanahan, 1(38), 269–284. https://doi.org/10.31292/jb.v1i38.168