Bagaimana Sertifikasi Kelapa Sawit Berkelanjutan Gagal Mencegah Perusahaan Anggota RSPO dan ISPO Merampas Tanah Adat di Indonesia?
Keywords:
Environmental Certification, Indigenous Peoples, Land Grabbing
Abstract
The principle of sustainability on commodity certification such as RSPO and ISPO include acknowledgement and protection of indigenous people's right. Membership in these schemes however didn't prevent some members companies from grabbing indigenous people's land. This study then try to understand the limitation of RSPO and ISPO to prevent its members involvement in land grabbing act. The paper use the method of literature review. Due to time restriction and research focus, the review is being limited on literature that can explain how far those certification could prevented land grabbing. The result of the study divided to three section: institutional, the provision implementation in RSPO depend on voluntary act of its members companies and provision in ISPO limited on the issues of conflict resolution and compensation but not the involvement of indigenous people; agency, RSPO faced with the domination of multinational companies that made indigenous people, NGO who represented their interest, and local producers as minority while ISPO faced with the problems of sectoral ego and overlap between government agencies; and political economy, where consideration must be given to the power and interest of actors such as state, elites, companies, and even auditor on certification process and plantation expansion.
Key words: RSPO, ISPO, land grabbing
Intisari: Prinsip keberlanjutan dalam sertifikasi komoditas seperti RSPO dan ISPO mencakup pengakuan dan perlindungan hak masyarakat adat. Keanggotaan dalam skema tersebut tetapi tidak mencegah beberapa perusahaan anggota dari merampas lahan masyarakat adat. Kajian ini berusaha untuk memahami batasan kemampuan RSPO dan ISPO dalam mencegah keterlibatan anggotanya dalam aktivitas perampasan lahan. Makalah ini menggunakan metode tinjauan literatur. Keterbatasan waktu dan fokus penelitian membatasi kajian pada literatur yang dapat menjelaskan batasan sertifikasi yang ada dan keberlanjutan perampasan lahan. Hasil kajian dari penelitian ini dibagi menjadi tiga bagian untuk menjelaskan keberlanjutan perampasan lahan masyarakat adat: dari institusional, penegakan ketentuan dalam RSPO cukup bergantung pada kesukarelaan dari perusahaan anggotanya dan ketentuan ISPO terbatas pada isu resolusi konflik dan kompensasi tetapi tidak pelibatan; agensi, RSPO dihadapkan dengan dominasi perusahaan multinasional yang menjadikan masyarakat adat, LSM yang mewakili kepentingan mereka, dan produsen lokal menjadi minoritas sedangkan ISPO dihadapkan dengan masalah egosektoral dan tumpang tindih peraturan antar lembaga pemerintah; dan politik ekonomi, di mana pertimbangan perlu diberikan pada kuasa dan kepentingan aktor seperti negara, elit, perusahaan, dan bahkan auditor dalam proses sertifikasi dan perluasan perkebunan.
Kata kunci: RSPO, ISPO, perampasan lahan
Downloads
Download data is not yet available.
References
Agustina, D., Hariyadi, & Saharuddin. (2014). Analisis Lingkungan Sosial Ekonomi Pengelolaan Perkebunan Kelapa Sawit Berkelanjutan Berdasarkan Kriteria ISPO PT. Tapian Nadenggan. Jurnal Pengelolaan Sumberdaya Alam Dan Lingkungan, 4(1), 43–48.
AMAN. (2014). Muara Tae, Hidup di atas Bara Tambang dan Sawit (Bag 2).
Aprianto, P. E. (2019). PT Borneo Ketapang Indah Belum Kembalikan Lahan Warga. Retrieved March 28, 2020, from https://www.borneonews.co.id/berita/128850-pt-borneo-ketapang-indah-belum-kembalikan-lahan-warga
Astari, A. J., & Lovett, J. C. (2019). Does The Rise Of Transnational Governance 'Hollow-Out' The State? Discourse Analysis Of The Mandatory Indonesian Sustainable Palm Oil Policy. World Development, 117, 1–12.
Badan Pertanahan Nasional RI. (2019). Pengaturan dan Tata Cara Penetapan Hak Guna Usaha. Medan: Badan Pertanahan Nasional RI.
Carlson, K. M., Heilmayr, R., Gibbs, H. K., Noojipady, P., Burns, D. N., Morton, D. C., … Kremen, C. (2018). Effect of Oil Palm Sustainability Certification on Deforestation and Fire in Indonesia. Proceedings of the National Academy of Sciences of the United States of America, 115(1), 121–126. https://doi.org/10.1073/pnas.1704728114
Colchester, M., Chao, S., Anderson, P., & Jonas, H. (2015). Free, Prior and Informed Consent: Guide for RSPO Members. Kuala Lumpur: Roundtable on Sustainable Palm Oil.
Dharmawan, A. H., Nasdian, F. T., Barus, B., Kinseng, R. A., Indaryanti, Y., Indriana, H., … Roslinawati, A. M. (2019). Kesiapan Petani Kelapa Sawit Swadaya dalam Implementasi ISPO: Persoalan Lingkungan Hidup, Legalitas dan Keberlanjutan. Jurnal Ilmu Lingkungan, 17(2), 304–315.
Environmental Investigation Agency. (2015). Who Watches the Watchmen?: Auditors and the Breakdown of Oversight in the RSPO. London.
Fachrizal, A. (2017). Konflik Membara di Konsesi Sawit Kartika Prima Cipta.
Fitria. (2019). Penyelesaian Sengketa Perkebunan Antara Perusahaan Perkebunan Sawit PT. Asiatic Persada dengan Suku Anak Dalam Batin IX di Desa Bungku Kecamatan Bajubang Kabupaten Batanghari. Jurnal Sains Sosio Huaniora, 3(1), 15–30.
Forest Peoples Programme, & Sawit Watch. (2012). Keputusan Bebas, Didahulukan dan Diinformasikan dan RSPO; Apakah perusahaan menepati janji-janji mereka? Temuan-temuan dan rekomendasi-rekomendasi dari Asia Tenggara dan Afrika. Bogor.
Fuadah, D. T., & Ernah. (2018). Pengelolaan Perkebunan Kelapa Sawit Berdasarkan Prinsip ISPO di PTPN VIII Cikasungka, Jawa Barat. Jurnal Ilmu Pertanian Indonesia (JIPI), 23(3), 190–195.
Gellert, P. K. (2015). Palm Oil Expansion In Indonesia: Land Grabbing As Accumulation By Dispossession. States and Citizens: Accommodation, Facilitation and Resistance to Globalization (Current Perspectives in Social Theory), 34, 65–99.
Greenpeace. (2013). Certifying Destruction: Why Consumer Companies Need to Go Beyond the RSPO to Stop Forest Destruction.
Habibullah. (2017). Warga 2 Desa Keluhkan PT Borneo Ketapang Indah, Apa Itu? Retrieved March 28, 2020, from https://kalteng.antaranews.com/berita/270892/warga-2-desa-keluhkan-pt-borneo-ketapang-indah-apa-itu
Harianja, K., Hutabarat, S., & Dewi, N. (2015). Analisis Persepsi Petani Kelapa Sawit Pola Swadaya Menghadapi Sertifikasi RSPO Di Kecamatan Ukui Kabupaten Pelalawan. Jom Faperta, 2(1), 1–13.
Hia, A. V., & Kusumawardani, N. (2016). Indonesian Sustainable Palm Oil (ISPO), A Way to Reach The European Union Renewable Energy Directive (EU RED) 2009 and Boosting Indonesian Palm Oil Market to European Union (EU) 2009-2014. Jakarta: President University. Retrieved from https://pdfs.semanticscholar.org/5b55/ef1d5ca69e179c01a01e804b007a245b3903.pdf
Hidayat, N. K., Offermans, A., & Glasbergen, P. (2018). Sustainable palm oil as a public responsibility? On the governance capacity of Indonesian Standard for Sustainable Palm Oil (ISPO). Agric Hum Values, 35, 223–242.
Hospes, O. (2014). Marking the success or end of global multi-stakeholder governance? The rise of national sustainability standards in Indonesia and Brazil for palm oil and soy. Agric Hum Values, 31, 425–437.
Human Right Watch, & Aliansi Masyarakat Adat Nusantara. (2019). "Kehilangan Hutan Berarti Kehilangan Segalanya" Perkebunan Kelapa Sawit dan Pelanggaran Hak Asasi Manusia di Indonesia. Jakarta. Retrieved from https://www.hrw.org/sites/default/files/report_pdf/indonesia0919ind_web.pdf
Imansari, S. Y. (2015). Penetapan Kebijakan Indonesian Sustainable Palm Oil (ISPO) Pada Tahun 2011. Jember: Universitas Jember. Retrieved from http://repository.unej.ac.id/handle/123456789/66148
Jafari, Y., Othman, J., Witzke, P., & Jusoh, S. (2017). Risks and opportunities from key importers pushing for sustainability: the case of Indonesian palm oil. Agricultural and Food Economics, 5(13), 1–16.
Kaoem Telapak. (2018). Perusahaan Negara Tanpa Sertifikat ISPO Menghilangkan Akses Warga Terhadap Hak Atas Air Bersih. Retrieved March 28, 2020, from http://kaoemtelapak.org/perusahaan-negara-tanpa-sertifikat-ispo-menghilangkan-akses-warga-terhadap-hak-atas-air-bersih/
Katadata. (2019). Ironi di Balik Ekspansi Perkebunan Kelapa Sawit.
Kelompok Masyarakat Sipil Region Sulawesi. (2017). Kertas Posisi Kelompok Masyarakat Sipil Region Sulawesi "Sistem Sertifikasi Bukan Sekedar Label Sawit Berkelanjutan." Makassar: Kelompok Masyarakat Sipil Region Sulawesi. Retrieved from https://docplayer.info/54956238-Kertas-posisi-kelompok-masyarakat-sipil-region-sulawesi-sistem-sertifikasi-bukan-sekedar-label-sawit-berkelanjutan.html
Khalid, M. (2018). Siaran Pers Bersama: Terus Menuai Konflik Agraria dan Lingkungan Hidup, Komitmen Astra Agro Lestari Dipertanyakan. Retrieved March 29, 2020, from https://www.tuk.or.id/2018/01/16/siaran-pers-bersama-terus-menuai-konflik-agraria-dan-lingkungan-hidup-komitmen-astra-agro-lestari-dipertanyakan/
Kusumaningtyas, R. (2018). External Concerns on the RSPO and ISPO Certification Schemes. Jakarta. Retrieved from https://www.foeeurope.org/sites/default/files/eu-us_trade_deal/2018/report_profundo_rspo_ispo_external_concerns_feb2018.pdf
Nanggara, S. G., Rosalina, L., Kartika, R. Y., & Setyawan, A. A. (2017). Enam Tahun ISPO Kajian Penguatan Instrumen ISPO dalam Merespon Deforestasi, Kerusakan Ekosistem Gambut, Kebakaran Hutan dan Lahan, serta Konflik Tenurial akibat Pembangunan Perkebunan Kelapa Sawit. Bogor.
Pichler, M. (2010). Agrofuels in Indonesia: Structures, Conflicts, Consequences, and the Role of the EU. ASEAS - Austrian Journal of South-East Asian Studies, 3(2), 175–193.
Prihandono, I., & Rully Sandra. (2018). Kertas Kebijakan Menuju Implementasi Prinsip-Prinsip Panduan PBB tentang Bisnis dan HAM di Indonesia. Jakarta. Retrieved from https://www.infid.org/kertas-kebijakan-bisnis-dan-ham-di-indonesia/
Redaksi SI. (2018). Budiman Rumhorbo, Direktur Human Resources Ciliandry Anky Abadi Membangun SDM Bermutu di Kebun. Retrieved March 29, 2020, from https://sawitindonesia.com/budiman-rumhorbo-direktur-human-resources-ciliandry-anky-abadi-membangun-sdm-bermutu-di-kebun/
Reinhardt, G., Rettenmaier, N., Gärtner, S., & Pastowski, A. (2007). Rain Forest for Biodiesel? Ecological effects of using palm oil as a source of energy.
Rival, A., Montet, D., & Pioch, D. (2016). Certification, labelling and traceability of palm oil: can we build confidence from trustworthy standards? OCL - Oilseeds and Fats, Crops and Lipids, 23(6), 1–11.
Saturi, S. (2016). Lahan Terampas, Masyarakat Adat Yerisiam Laporkan Perusahaan Sawit ke RSPO.
Suharto, R., Husein, K., Sartono, Kusumadewi, D., Darussamin, A., Nedyasari, D., … Prasodjo, R. (2015). Studi Bersama Persamaan dan Perbedaan Sistem Sertifikasi ISPO dan RSPO. Jakarta.
Vinolia. (2017). Ketika Wilayah Adat Masyarakat Kapa Terampas Sawit Wilmar.
Vos, R. de, Köhne, M., & Roth, D. (2018). "We'll turn your water into Coca?Cola": The atomizing practices of oil palm plantation development in Indonesia. Journal of Agrarian Change, 385–405.
Walhi Papua, PUSAKA, SKP-KAME, Official Site of Fransiskan Papua, Gereja Kristen Injil Tanah Papua, & Papua, J. (2018). Catatan Akhir Tahun 2017 Perampasan Tanah, Kekerasan dan Deforestasi di Papua. Papua. Retrieved from https://pusaka.or.id/assets/2018/01/Laporan-Bersama-Catatan-Akhir-Tahun-2017-Vrs.pdf
Yovanda. (2017). Muara Tae yang Tidak Pernah Henti Diusik Masalah.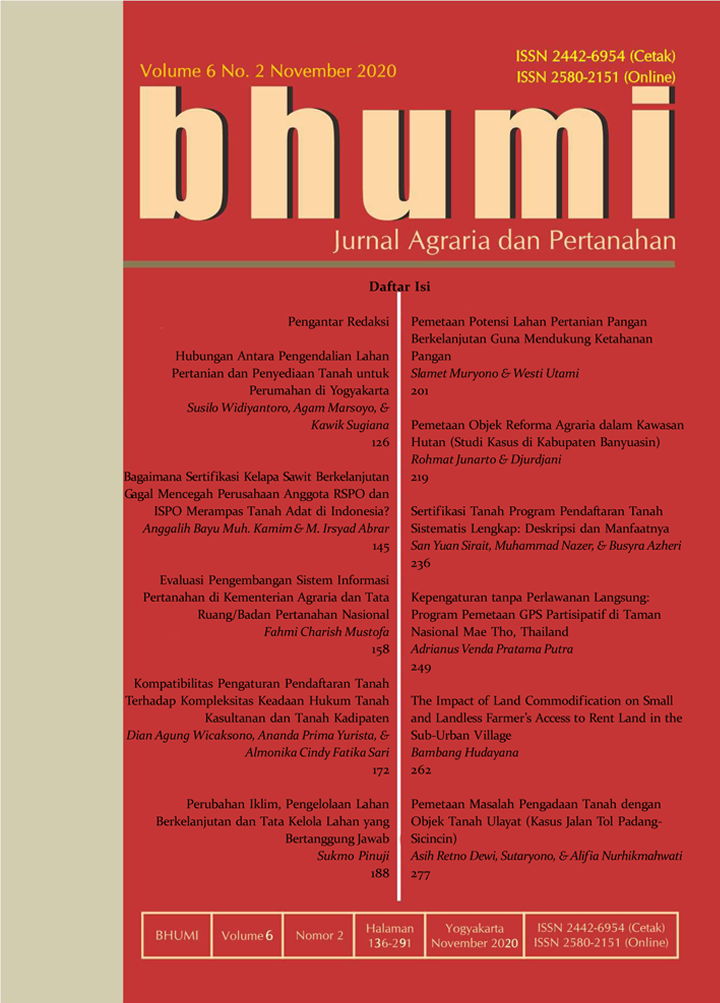 Downloads
License
All articles published in Jurnal Bhumi are licensed under a Creative Commons Attribution-ShareAlike 4.0 International license.
Copyright of the article remains with the author(s) without time limit. Jurnal Bhumi holds the license for first publication only.
Author(s) can submit other contract as separate addition related to published articles, such as: uploading to institutional repository, publishing in book or other media with recognition and addressing initial publisher as Jurnal Bhumi.
All parties are free to quote, copy, and adapt any article in Jurnal Bhumi for any legitimate purpose in any media, with the requirement to include credit for original author(s) and Jurnal Bhumi as first publisher.