Rural Livelihood Transformations and Land Inequality in Bangka
Keywords:
Land Inequality, Land tenure, Land ownership, Livelihood transformations
Abstract
Since the Dutch colonial era, Bangka Belitung Province has been a rich province due to its abundanttin mining resources. However, the limitation of tin availability and the extraordinary environmental degradation caused by mining has changed people's lives. This study aims to determine the level of land ownership inequality and the factors that influence such inequality. In addition, this study also describes the transformation causes of the livelihoods of the majority of the population in Bangka. This research was conducted through descriptive quantitative analysis, and the data was obtained through a survey of 140 head of households whowork as farmers or work as a farm labourers in Bangka and West Bangka. Analysisof land ownership inequality is done through the Gini index ratio measured using the Lorenz curve. The results of a study conducted on 140 respondents in Bangka and Bangka Barat show that the level of land ownership inequality reaches 0.45. Several things have an effect on the level of inequality. First, most of Bangka regions, almost 3/4 the areas have mining permits. Second, there has been a large-scale expansion of oil palm plantations and a lot of Cultivation Rights Permits/HGU. Third, most of the areas outside the mining and the cultivation rights permits are forest areas. The results of the study also show that the majority of the community shifted from miners to farmers due to limited tin sources and low tin prices. The high level of inequality in land ownership and the shifting of community's main jobs can certainly affect the economic growth which is getting weaker and widening the inequality.
Downloads
Download data is not yet available.
References
Adhiani, KD, Erfit, Bhakti, A 2018, 'Analisis pertumbuhan ekonomi dan ketimpangan pembangunan di wilayah Sumatera', Perspektif Ekonomi dan Pembangunan Daerah, vol. 7, no. 1.
Amri, K, 2017, 'Analisis pertumbuhan ekonomi dan ketimpangan pendapatan: Panel data 8 Provinsi di Sumatera', Jurnal Ekonomi dan Manajemen Teknologi (EMT), vol 1, no. 1, hlm 1-11.
Badan Pusat Statistik, 2019
Badan Pusat Statistis Provinsi Bangka Belitung, 2017, https://babel.bps.go.id/pressrelease/2018/01/02/503/september-2017--penduduk-miskin-bangka-belitung-mencapai-5-30-persen.html, accessed 31 Agustus 2019
Erman, E 2010, 'Aktor, akses dan politik lingkungan di pertambangan timah Bangka', Jurnal Masyarakat Indonesia, edisi XXXVI, no. 2.
Haryanah, 2017, Kesenjangan pendapatan di Indonesia studi empiris berdasarkan SUSENAS 2008, 2011 dan 2013, Jurnal BPPK (Badan Pendidikan dan Pelatihan Keuangan) Kementerian Keuangan, vol. 10 no. 2, hlm. 43-58.
Luthfi, M, Sunarwan, B 2008, 'Analisis sebaran kegiatan pertambangan timah menggunakan Sistem Informasi Geografi di daerah Bangka, provinsi Bangka Belitung', Jurnal Teknologi, vol.1, edisi 13.
Manik, JDN 2014, 'Kebijakan pertambangan laut timah yang berdampak pada lingkungan', Promine, vol 2, no 2, journal.ubb.ac.id.
Meyzilia, A 2018, 'Pemanfaatan air kolong bekas tambang tumah sebagai penambah sumber air tanah menggunakan lubang kompos di Bangka Belitung', Jurnal Pendidikan Ilmu Sosial, vol. 27 no. 1.
Moore, WH, Lindström, R & O'Regan, V 1996, 'Land reform, political violence and the economic inequality?political conflict nexus: A longitudinal analysis, International Interactions: Empirical and Theoretical Research in International Relations', 21:4, 335-363, doi: 10.1080/03050629608434872.
Bramall, C 2000, 'Inequality, land reform and agricultural growth in China, 1952–55: A preliminary treatment', The Journal of Peasant Studies, 27:3, 30-54, doi: 10.1080/03066150008438739.
Pratama, S 2018, 'Dimensi ekonomi politik dalam konflik tata kelola pertambangan (studi kasus Surat Keputusan Gubernur Bangka Belitung tentang penghentian sementara operasional pertambangan laut PT Timah Tbk tahun 2016)', Jurnal Wacana Politik, vol. 3 no. 1.
Rismika, T, Purnomo, EP 2019, 'Kebijakan pengelolaan ekosistem laut akibat pertambangan timah di Provinsi Bangka Belitung', Jurnal Administrasi Publik, vol. 4 no. 1, hlm 63-80.
Rusfiana, Y, Hermawan, D 2019, 'Potensi bencana alam pasca penambangan timah inkonvensional di Kabupaten Bangka Tengah Provinsi Bangka Belitung, Perspektif Ketahanan Wilayah', Jurnal Konstituen, vol. 1, no. 1, hlm. 59 – 76.
Sari, DP, Buchori, I 2015, 'Efektivitas program reklamasi pasca tambang timah di Kecamatan Merawang Kabupaten Bangka', Jurnal Pembangunan Wilayah dan Kota, vol. 11 (3), hlm 299-312.
Seri Analisis Pembangunan Wilayah Provinsi Bangka Belitung, 2015.
Setiadi, Y 2006, The Revegetation Strategies for Rehabilitating Degraded Land after Mine Operation. www.mm.helsinki.
Sutedjo, S 2007, Dampak kehadiran timah Indonesia sepanjang sejarah pada aspek politik ekonomi sosial budaya, Jakarta: Cempaka Publishing.
Syahputra, I 2018, 'Strategi media relation perusahaan pertambangan timah dan agenda setting media di Bangka Belitung', Jurnal Kajian Komunikasi, vol. 6, no. 1, hlm. 91-105.
Todaro, MP, dan Smith, SC 2004, Pembangunan ekonomi di dunia ketiga edisi kedelapan, Jakarta: Penerbit Erlangga.
Yuliana, HS 2017, 'Analisis dampak pertambangan timah rakyat terhadap bencana banjir (studi pada kota Pangkalpinang Provinsi Kepulauan Bangka Belitung Tahun 2016)', Jurnal Prodi Manajemen Bencana, vol. 3 no. 1.
Yunianto, B 2009, 'Kajian problema pertambangan timah di Provinsi Kepulauan Bangka Belitung sebagai masukan kebijakan pertimahan nasional', Jurnal Teknologi Mineral dan Batubara, vol. 5 no. 3, hlm 97-113.
World Bank & Australian Aid, 2016, Ketimpangan yang semakin lebar : mengapa, apa dampaknya dan apa solusinya. Bank Dunia.
Zulkarnain, I 2007, Dinamika dan Peran Pertambangan Rakyat di Indonesia, LIPI Press, Jakarta.

Regulations
Undang-Undang Republik Indonesia Nomor 11 Tahun 1967 Tentang Ketentuan-Ketentuan Pokok Pertambangan
Undang-undang Nomor 32 Tahun 2004 tentang Pemerintah Daerah
Undang undang Nomor 4 Tahun 2009 tentang Pertambangan Mineral dan Batubara
Peraturan Pemerintah Nomor 78 Tahun 2010 tentang Reklamasi dan Pasca Tambang
Peraturan Menteri ESDM Nomor 18 Tahun 2008 Tentang Reklamasi dan Penutupan Tambang
Keputusan Menteri Pertambangan dan Energi nomor 211.K/008/M.PE/1995 Tentang Pencegahan dan Penanggulangan Perusakan dan Pencemaran Lingkungan Pada Kegiatan Pertambangan Umum
Peraturan Daerah Pemerintah Provinsi Kepulauan Bangka Belitung Nomor 7 Tahun 2014 Tentang Pengelolaan Pertambangan Mineral
SK Gubernur Bangka Belitung Nomor 540/40/DPE tanggal 18 Januari 2016 tentang Penghentian Sementara Operasional KK dan KIP di wilayah Laut Deniang, Teluk Kelabat, dan Laut Tempilang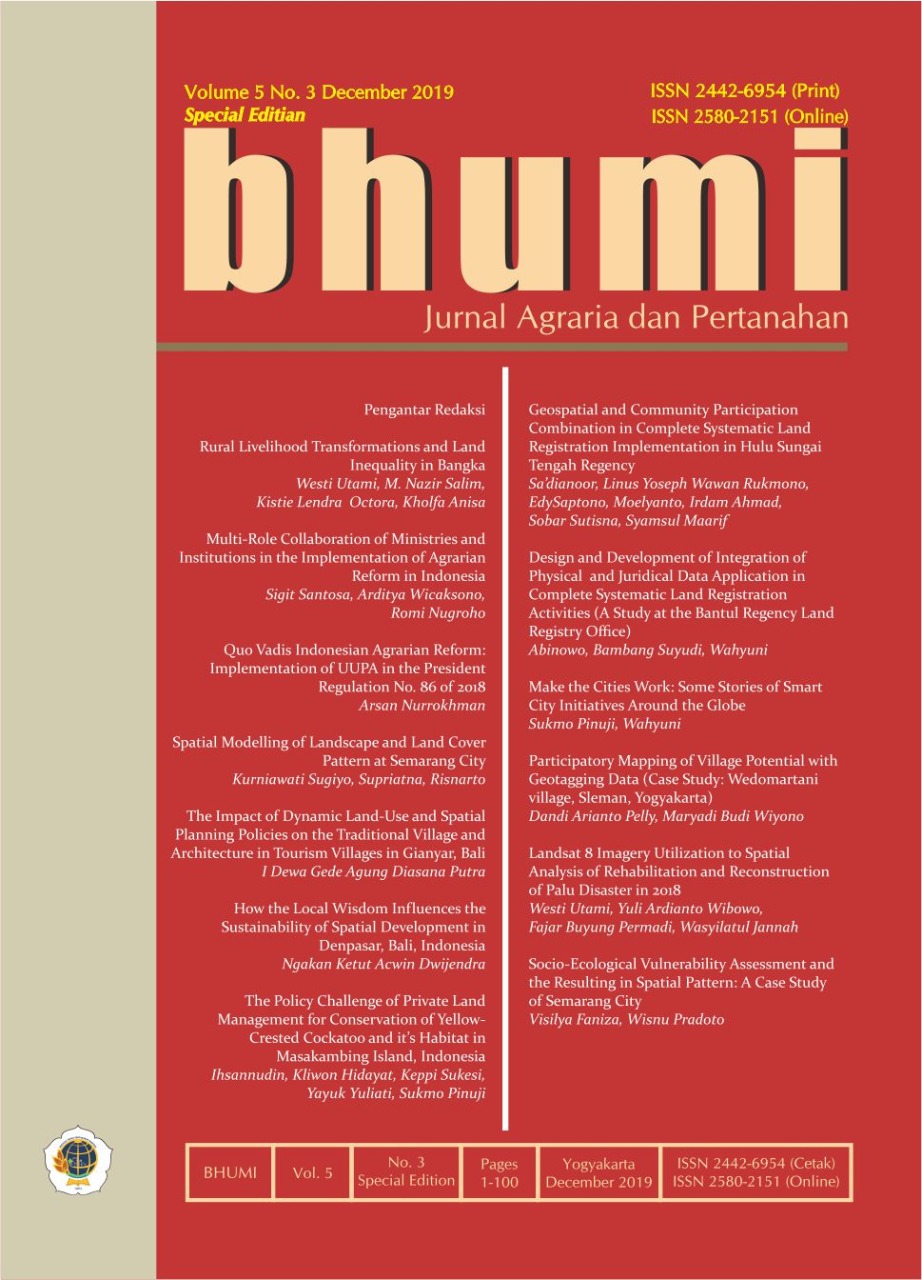 Downloads
License
All articles published in Jurnal Bhumi are licensed under a Creative Commons Attribution-ShareAlike 4.0 International license.
Copyright of the article remains with the author(s) without time limit. Jurnal Bhumi holds the license for first publication only.
Author(s) can submit other contract as separate addition related to published articles, such as: uploading to institutional repository, publishing in book or other media with recognition and addressing initial publisher as Jurnal Bhumi.
All parties are free to quote, copy, and adapt any article in Jurnal Bhumi for any legitimate purpose in any media, with the requirement to include credit for original author(s) and Jurnal Bhumi as first publisher.